Six Bullets
Six Bullets Movie News
---
Wrapping up the indie film "Six Bullets"

December 26, 2007

Jason Bott scouts the Port Washington North Beach, where "Six Bullets" would later shoot for three days.

"Six Bullets" has finished its 2007 tour of the film festival circuit, winning awards and acclaim across the country. The addition of the Trail Dance Film Festival in Oklahoma rounds the total fesival selections to six, with an award for "best action-adventure" and a nomination for "Best Horror Film". Distributors interested in "Six Bullets" should contact jon(at)sixbulletsmovie.com, as a deal with a distributor is in the works and expected to be finalized soon. Members of the public still interested in seeing "Six Bullets" on the big screen can attend the Trail Dance Film Festival screening on January 12, 2008.

Another Film Festival for "Six Bullets&quot

October 6, 2007

Graham Killeen (left) and Jon Kline getting ready on set at Port Washington's North Beach. The beach was closed three days for the indie filmmakers.

After winning Best Action/Adventure Film at Pencil Head's Dusk 'Till Dawn film fest, "Six Bullets&quot film lovers have another reason to be excited. The film is an official selection of the B-Movie Film Festival in New York, the most prestigious B-movie festival in the U.S. "Six Bullets" will screen at a special showing on October 28th at the Palace Theatre in Syracuse.
As the indie movie wraps up its tour of the festival circuit, the producers will be looking for distribution options and shifting focus to Signal Fire Films' latest project, 355, a film Killeen calls "A little less emo, a little less violent, and even more enjoyable." "355" is expected to begin principal photography in March, 2008.

"Six Bullets" to be featured on "The Morning Blend"

July 10, 2007

The Morning Blend weekdays at 10am on Milwaukee's WTMJ Channel 4

Director Graham Killeen and actor Steve Koehler will be featured guests on The Morning Blend with Molly Fay and Alison de Castro on Thursday, July 19th. The program will air live at 10am on Channel 4 in Milwaukee. The duo will talk about the challenges of independent filmmaking in the Milwaukee area, what it means to be "truly indie&quot, and the film's success on the festival circuit. If you're lucky you might even catch a clip from "Six Bullets" and hear about the new project, "355"!

Official Selection in Houston and Tampa

July 6, 2007

Father played by Steve Koehler

The Pencil Head Film Festival in Houston, Texas and the Independents' Film Festival in Tampa, Florida informed us today that "Six Bullets" will be an official selection of both indie film festivals. The screening in Houston in July is likely to be the world premiere of "Six Bullets". More than a dozen film festival submissions are still outstanding, including Sundance and the Milwaukee International Film Festival, so check back often for a screening in your area.

Milwaukee's Best Local Filmmaker for 2006

December 6, 2006

Runner-up Mark Borchardt (left) poses for a photo with director Graham Killeen at the BOM awards ceremony

Director Graham Killeen has won the Shepherd Express Best Milwaukee Filmmaker award for 2006, beating out fellow nominees Howie Goldklang and Mark Borchardt. Check the Shepherd Express this week for more information. Thanks to everyone who voted. Now to celebrate, and to thank you for your patience, we've launched the teaser trailer.
Previous news from "Six Bullets" is now available in the Archives.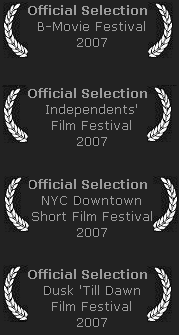 "[A] hybrid of comic books, Robert Rodriguez, and Wong Kar-Wai in which style is the main appeal."
- flipsidemovies.com
Best of Milwaukee 2006: Best Local Filmmaker
- Milwaukee's Shepherd Express on Director Graham Killeen
Best Action/Adventure Film
- Pencil Head Film Festival, Houston, TX
"'Six Bullets' will gain recognition at film festivals around the country"
- Washington County Express News